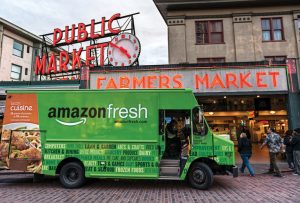 AmazonGo Stores Could Become a Multi- Billion Business 
Originally Published by: 

QSR Magazine

–

January 2019
The article above was produced and published by the source linked to above, who is solely responsible for its content. G2 National is sharing this story content to raise awareness of information publicly available online and does not verify the accuracy of the author's claims. As a consequence, G2 National cannot vouch for the validity of any facts, claims or opinions made in the article.
From the Article: "For some perspective on where this growth would slot Amazon's model, 3,000 restaurants would place it at No. 16 in the QSR 50 (in regards to U.S. locations), right behind Papa John's (3,314 locations end of 2017) and in front of Jimmy John's (2,755 restaurants)."
G2 National Op-Ed:  G2 National's PRS™ would allow Amazon to open its stores faster than the industry average by avoiding deferred submittals.  The ability to open a store 2-3 weeks earlier makes serious dollars and sense.