Commercial Wall Panels
A Strong, Simple, Supported and Sustainable Solution
Integrated Off-Site Solutions (IOSS™) for today's demanding schedules and labor shortages have lead G2 to begin manufacturing Commercial Prefabricated Wall Panels.  With Wall Panel plants across the USA, G2 National is uniquely positioned and focused to support the Fast Food & Casual Restaurant, as well as Convenience Store new construction market.
STRONG WALLS
Standard Lumber, LSL, and LVL Studs and Headers (Commercial Strong)
Pre-Manufactured panels up to 10′ width
Integrated commercial grade anchor-down hardware
SIMPLE WALLS
A Prefab Wall Panel is a IOSS™ that can save on Framing Labor costs
A Prefab Wall Panel is a IOSS™ that can reduce overall construction schedule
Prefab Wall Panels can be designed in conjunction with G2 National's PRS™ to optimize IOSS™ and end Deferred Submittals
SUPPORTED WALLS
G2 Wall Panels and the associated Pre-Fabricated Roof System often fall under the G2 National Attached Marketing Program (AMP*)
Value Engineering to support the EOR
Industry Best Production Lead Times
9 Manufacturing Plants located across the country
Our specialty trailers facilitate Fast Food and Convenience Store "Tall Walls"!
*AMP DEFINED
Prefab Truss roof submittals (sealed calcs and layout) made available at time of bidding, without contractual obligation (no deferred submittal)
G2 Wall layouts and material lists made available at time of bidding, without contractual obligation (ready for your schedule)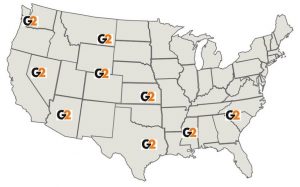 SUSTAINABLE WALLS
Uses 25% less lumber compared to stick framing due to factory controlled lumber optimization (no field cut waste)
Use of sustainable LSL and LVL composite lumber, when required
Reduced carbon footprint when shipping Walls Panels and Roof Truss System from one plant